"The Jordan Rules by Sam Smith" - Sam Smith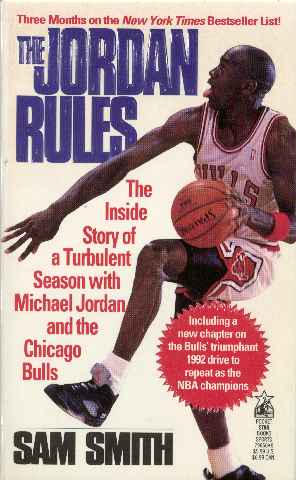 Autor:
Sam Smith
Tytuł:
"The Jordan Rules by Sam Smith"
Wydawnictwo:
Pocket Star Books
Data wydania:
1993
Format:
11 x 17cm
Liczba stron:
378
Opkładka:
miękka
Język:
angielski
Cena:
22$
O Autorze:
Sam SMith has been a reporter for the Chicago Tribune since 1979. He is a Brooklyn, New York, native with degree in accounting from Place University and in journalism from Ball State University. He has worked for Arthur Young and Co., the Fort Wayne News-Sentinel, and State News Service in Washington, DC. This is his first book.
A SUPER TEAM...A SUPERSTAR...A SUPER-EGO
What drives Michael Jordan? The pursuit of team success...or of his own personal glory? The pursuit of excellence... or of his next multi-million-dollar endorsement? The most gifted athlete ever to play the game, Jordan has risen to hegights no basketball player has ever reached before. But the flight of the man, they call Air Jordan has been rocked by controversy. In THE JORDAN RULES, which chronicles the Chicago Bulls' 1990-91 championship season, Sam Smith takes the #1 Bull by the horns to reveal the team behind the man... and the man behind the Medison Avenue smile.
Here is the inside game, both on and off the court, including:
Jordan's power struggles with management, from verbal attacks on the general manager to tantrums against his coach
Behind-the-scenes feuds, as Jordan punches a teammate in practice and refuses to pass the ball in the crucial minutes of big games
The players who compete wiht His Airness for the Air Time- Scottie Pippen, Horace Grant, Bill Cartwright-telling their side of the story
A penetrating look at coach Phil Jackson, the former flower child who blossomed into one ofthe NBA's top motivators and who finally found a way to coax "Michael and the Jordanaires" to their first title.
A provocative eyewitness account, THE JORDAN TULES delivers all the nonstop excitement, tension, and thrills of a championship seasn-and an intense fascinating portrait of the incomparable Michael Jordan
"AN ENGAGING, SOMETIMES CRUELLY FUNNY BEHINS-THE SCENES LOOK AT THE BULLS' TANTRUM-AND DOUBT FILLED BUT FINALLY TRIUMPHANT JOURNEY TOTHE NBA TITLE" - New york Newsday
"THE JORDAN TULES...MIGHT BE THE BEST SPORTS BOOK SINCE SEASON ON THE BRINK ABOUT BOB KNIGHT..." - Jay Mariotti, Chicago Sun-Times